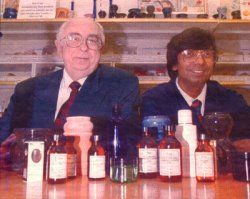 Founders Bernie Hephurn and Sandy Sage.
Butterbur and Sage is a family run business and we pride ourselves on the quality materials we use in each of our products. All materials have been sourced from their natural environment and we do not chemically re-create components in a laboratory. We ship our ingredients from their best natural sources, that way we can be assured of the highest quality product.

Butterbur and Sage Ltd was established in 1983 and as one of the first registered companies in aromatherapy, a lot of time was spent on research which then determined our activities for future years. It was clear that essential oils purity and quality was a vital factor for aromatherapists and we pride ourselves on providing that quality to our customers.
We were active in helping to establish the Natural Oils Research Association (NORA) whose aim was to pursue purity and quality with the emphasis on the Aromark Seal of Quality. In 1991 we took the leading role in organising the Egyptian Study Tour to examine the foundation of Aromatherapy. This was under the leadership of Dr. Lise Manniche, the Egyptologist who has a deep interest in aromatherapy, herbalism and perfumery. Dr. Lise Manniche is the author of "The Ancient Egyptian Herbal" published by the British Museum.
We organised the "Science of Essential Oils Course", first at London University and, after a year, a continuing course at The Royal Masonic Hospital.
As the company developed, so did the need to provide aromatherapists with an extended range of oils, aromatherapy base creams, lotions, hair care products and other associated products. These were specially devised to allow for the inclusion of essential oils so that they could provide their clients with individual preparations.
Along with other companies Butterbur & Sage helped to further the NORA Aromark concept for purity and quality. This has rapidly become established in many parts of the world as the standard of quality and purity for essential oils.
After being involved with the production of a book on perfumery, we set up a sister company (The Perfume Palace) to extend and develop this interest and currently produce a very large range of perfume bases for both companies and specialists. Once we started producing many hundreds of litres of perfume and oils, it led naturally on to the development of contract packaging, which allows for people to have a completely finished product in volume.
We can design a product or range of products from start to finish whether in aromatherapy, perfumery or cosmetics.
We are always looking to expand the company's activities and range of products by appointing more agencies and partners in countries overseas.
Sandy Sage
Our Approach
Our approach is to provide excellent quality and first class service to our customer.
Our Values
Safety: All our essential oil and absolutes have been given the Aromark Seal of Approval.
Integrity: We are respectful, open and honest to all our customers and suppliers since establishment, 1983.
Passion: We are totally committed to our customers.
Support: We support our local charity.